*This is an overall concept for portfolio reasons if it was a legitimate case study.
AMC movie-watchers want to have a more interact-able experience while they're contemplating what movie to watch from the perspective of their own friends directly rather than official review-aggregation websites. With the recent AMC stock booming the market for a short period, movie-watchers have skyrocketed at AMC theatres. 
In an effort to use this opportunity, AMC has launched a rebrand of the UIUX for the AMC application to as a social media-oriented application, while still keeping most of the original AMC look and feel.
Adding a completely additional system and changing the location of certain UI had to be taken in considerate amount of steps so that users may still feel somewhat familiar with their journey. Making the fundamental change of adding a social media standard and profile for everyone created trial-and-error situations where we had to test if the previous AMC application's user flow could still be achieved with iconography updates, UIUX details, etc. Even if we were implementing social stories, profiles, user reviews, etc., there were a ton of work-arounds that we had to figure out, as said before, keeping to the seamless user flow with the previous AMC application.
 - Interact with other movie-watchers
 - Upload their movie journey through stories
 - Customize their AMC profile to their liking
 - Upload personal reviews that they could get credited and share with friends & strangers
 - Increase engagement and retention of movie-watchers
 - Increase our current earnings structure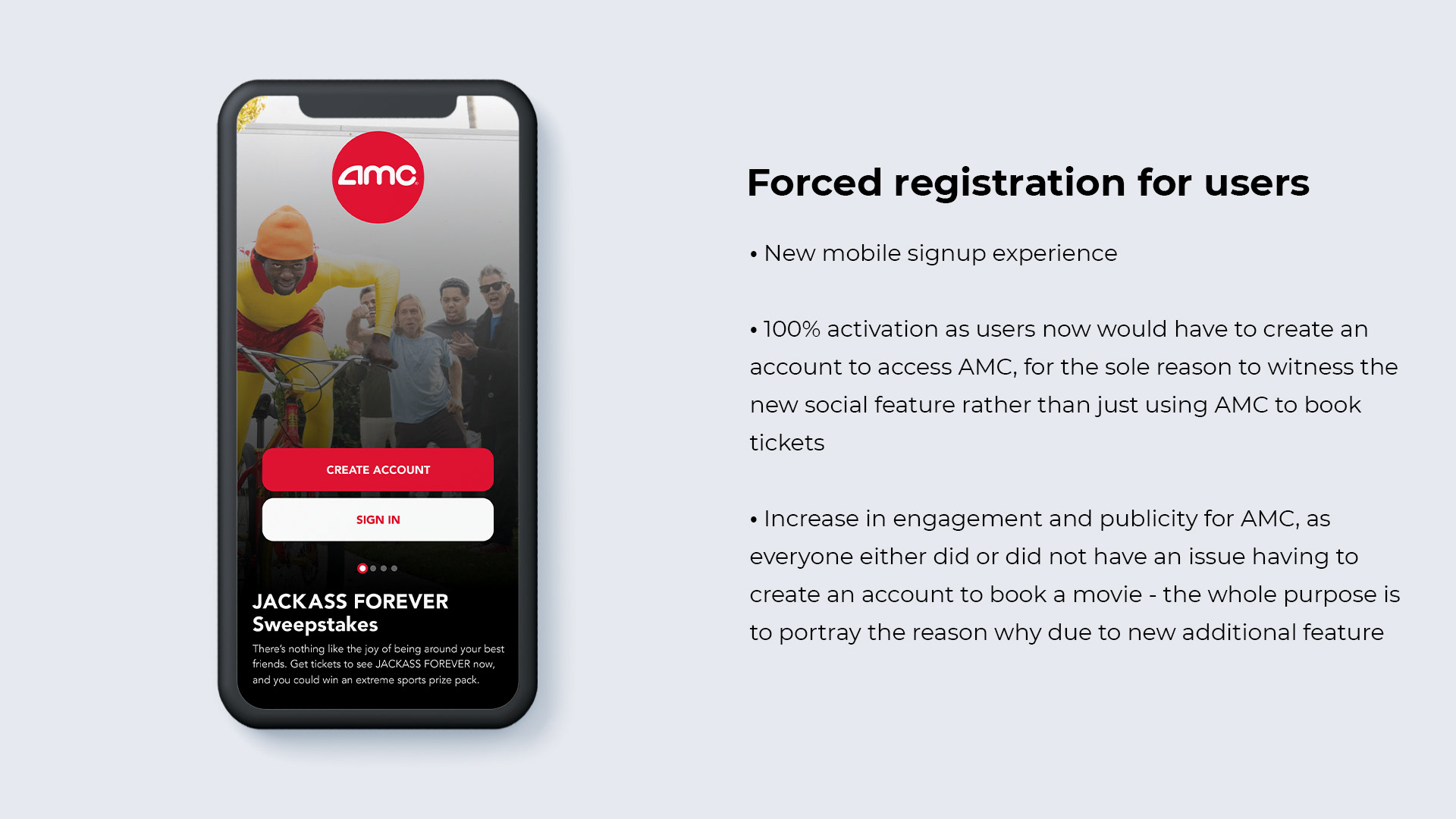 The feedback we received from movie-watchers was outstandingly positive, with many noting that their user flow from before still feels seamless with the social media implementations.
Beyond a boost in positive sentiment and proud morales, we've also seen an increase in retention and engagement from movie-watchers as a direct result of releasing this feature.
Seamless & Recognizable UIUX Identity
User Flow Journey (FIGMA)